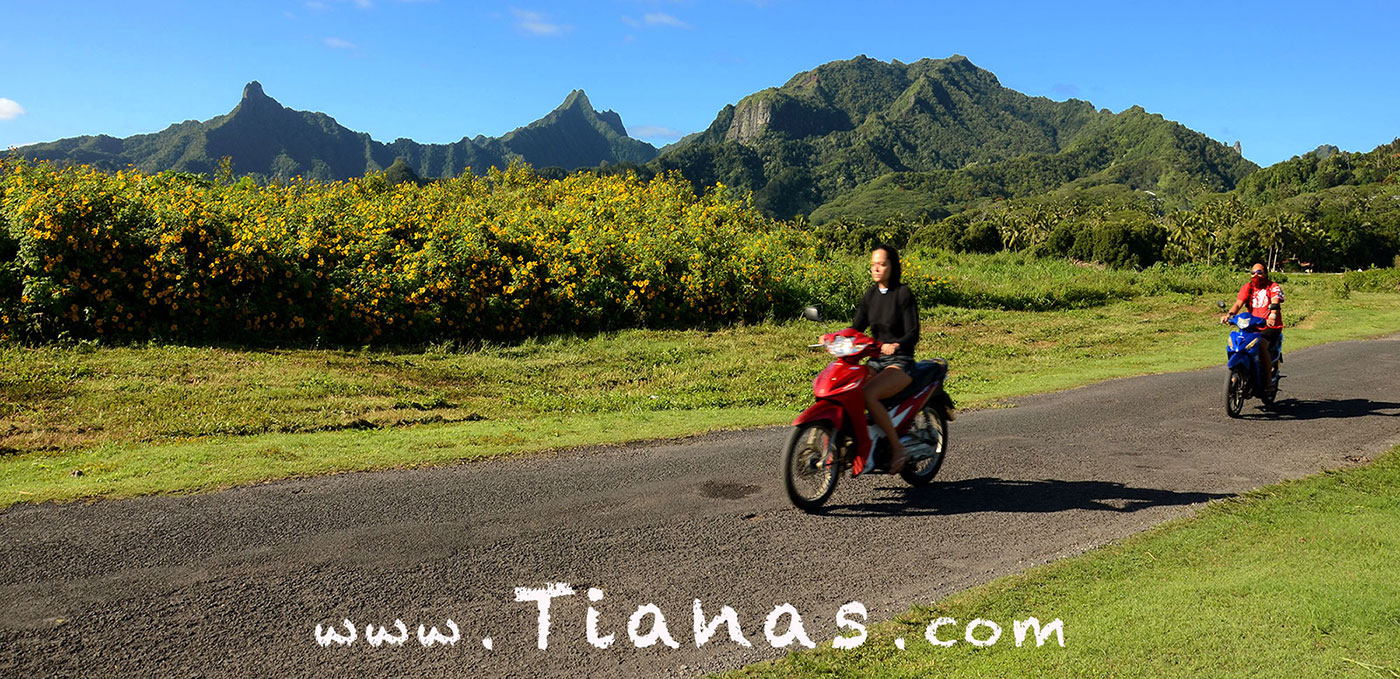 Holiday Information for Visiting Rarotonga Cook Islands
Most Cook Islands holiday-makers spend the majority of their time on Rarotonga Island; and for good reason! Rarotonga is best described as warm breezy, with white sandy beaches, swaying palm trees, coconut, banana, and paw paw trees, pineapple groves, a tropical lagoon encircling the island. It's a perfect spot to swim, snorkel, or fish, and soak up all the relaxation offered by this charming holiday island.
Rarotonga Island is just 32-km around its coast making it easy to get around and sightsee by moped. The tropical island rises from the coast into several attractive peaks, the tallest being 653 metres. Mountain scenes can be viewed from the coastal road right around Rarotonga and there are several valley roads which make excellent walking treks into the rainforest. Several guides offer walking and nature tours as well as 4WD and mountain bike excursions.
Apart from the mountains and beaches, the Cook Islands has some good scuba diving sites, excellent game-fishing and visiting humpback whales from July to October. The air and sea temperature is warm year round with higher temperatures and rainfall in the tropical summer months of December to April.
For shopping, there are several good art galleries along the coastal road of Rarotonga and there's excellent night-life and plenty of independent restaurants to sample.
Rarotonga holidays are very popular with New Zealand tourists and there are daily direct flights from Auckland with both Air New Zealand and Virgin Australia NZ. The volcanic island is surrounded by a fringing coral reef with lots of shallow lagoons, good snorkelling spots and clean sandy beaches. Rarotonga is the population centre of the Cook Islands and location of the international airport with the small capital Avarua Town on the rocky north coast.
Things to do on Rarotonga
Some ideas for your holiday on Rarotonga Island
Try Ika Mata (marinated fish) - Nautilus - 100m
Snorkel off Taakoka Island - 100m
Explore the Back Road by Moped
Go to an Island Night - Te Vara Nui
Climb Muri Hill Lookout - 800m
Eat at the Night Market - 600m
Polynesian Rentals - 700m
Jungle Quad Tour - 700m
Visit Local Art Galleries
Cross Island Hike - 3km
Shop at Punanga Nui Market - Avarua